Building or Reworking Your Stairs Is Easy With The Step Doctor
Another Tool That Works Great With the Step Doctor, the 3in1 Square!
THE EASY WAY TO BUILD STAIRS
The STEP DOCTOR is a one of a kind, patent pending STAIR JIG used for building stairs easy! This awesome tool will help you install treads and risers perfectly. It has a few moving parts and is nearly indestructible. Unlike other stair tools that bend and distort, the STEP DOCTOR will always keep its shape, therefore always giving you the Perfect Cut. It's simple design makes a perfect template of each step opening. Helps you build a beautiful set of stairs that you will be proud of.
The STEP DOCTOR is the only STAIR JIG made of a high strength ABS plastic. It is 11″ wide and extends from 30″ to 49″ long to fit most any size step. We also offer a STEP DOCTOR for steps up to 60″.By being so simple and efficient, the STEP DOCTOR will save you installation time and keeps you from making costly mistakes when cutting treads and risers. As you know, treads and risers are very expensive, so anything you can do to keep from making cutting errors is money in your pocket. The design is so easy and exact; it can be used by both the handyman and professionals!Plus, did you know the STEP DOCTOR is 100% environmentally friendly? That's right. We believe in doing our part to help the environment, which is why this product is completely "green".
The Step Doctor is a simple tool for complicated jobs. It's also known as a "Stair Jig", "Stair Tool" or "Step Tool." All you need is the Step Doctor, Saw and a Pencil.
Steps for Constructing Treads & Risers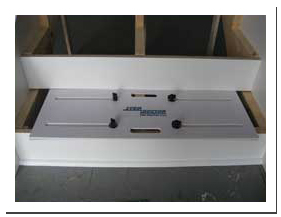 Place Step Doctor on Stringers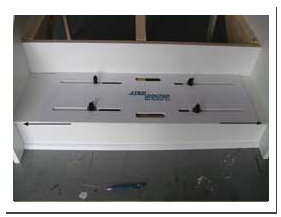 Extend Wings to Skirtboard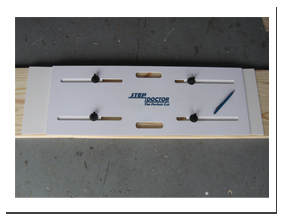 Remove and place on new tread or riser and mark